Family Fall Recipe
Sarah's Blog
With the suffering economy we find ourselves cutting corners and sacrificing entertainment. However, the inability to enjoy the simple adventures can make one's soul unhappy. So I've decided to create several recipes for fun in the fall. Whether you are looking for time with the family, lover, party goer or adventurer … there is a whole day dedicated to you simply having fun. Since it is early in the fall season, my first "recipe" is for families.
A Fall Recipe for the Family
Ingredients
9" pie crust ($1.79)
1 can evaporated milk ($.95)
Cinnamon ($.89)
Nutmeg ($.89)
Brown Sugar ($1.10)
Sugar ($1.12)
6 egg whites ($.79)
Ginger ($.89)
Hot Coca or Hot apple cider ($1.75)
Carving pumpkin/person ($3/person - $6/person)
Movie rental ($1/movie)
Total for family fun = $26.17
How to Prepare
First, start by purchasing all of the ingredients (minus the pumpkins of course). Then grab your cameras, bundle everyone up, and head to buy some pumpkins. Pumpkin patches are no longer somewhere you go to buy a pumpkin. Pumpkin patches now have mazes, petting zoos, bon fires, horse drawn rides, games and even live music. If you are on a budget, the prices of some of the most commercialized ones might frighten you. However, there are several pumpkin patches that have petting zoos and hay rides included with the purchase of your pumpkin. These patches aren't always advertised as they are on paths not often traveled. Check the pumpkin patch listing on Haunted Wisconsin and make some calls.
You and your family should be able to find a patch that offers all these features starting at $3/pumpkin!
Once everyone has purchased their pumpkin and finished petting the goats, it is time to head home for some pumpkin carving! There are several websites that let you print out designs. It would be best to print out several easy ones and let the kids pick what they want. is a good website to try.Then have them draw the design on the pumpkin with a marker. DO NOT let young children carver their own pumpkin!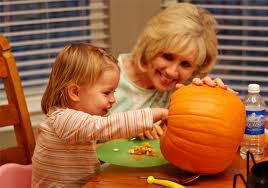 Carve the top or bottom of the pumpkins. Make sure you are carving in a "mess free" zone. Linoleum floors are best for pumpkin carving. Make sure you have a large bowl, garbage bag, and a medium sized bowl nearby. Show the children how to remove the guts and seeds. Make sure they are not dressed in good clothes as they are about to get dirty. Let them dig in and pull out the guts and seeds of the pumpkin. Show them how to separate the seeds into the medium sized bowl and throw the excess into the garbage bag. Let them continue until they can no longer find any seeds or guts. Take the seeds and put them into a strainer. Run them under water until the remaining pumpkin guts are gone. Spread the pumpkin seeds onto a baking sheet and cover them in any salty seasoning. Set the oven to 375 and let the seeds dry while you help the children obtain pumpkin "pulp". Using an angled spoon/scoop , carve the pulp away from each pumpkin. Add the pulp to the large bowl. Once you have about 4 cups worth, stick the pulp in another baking dish and put it in the oven. Carve the pumpkin designs on each pumpkin, checking every 10 minutes on the pumpkin pulp. After 20 minutes remove the pumpkin pulp from the oven and check the consistency. Put the seeds in the oven and change the temperature to 350. At this point finish carving the pumpkins and get everyone to help clean up the mess. Set the pumpkins up wherever you would like and take lots of pictures of the cool designs. After 15 minutes remove the pumpkin seeds and pour into a small serving dish. Now everyone can work together to make the pumpkin pie!
Take 1 ½ cups of brown sugar, ½ cup of sugar, ½ tsp. of ginger, 1 tsp. of nutmeg, and 1 ½ tsp. of cinnamon. Add to a medium sized mixing bowl. Now take the pumpkin pulp and put in a blender or food processer until well blended. Put the pumpkin pulp, 1 can evaporated milk, 6 egg whites (whisked), and 1 tablespoon vanilla into a large sized mixing bowl. Slowly add sugar mixture and beat until a foaming liquid forms. Pour into 9" pie crust and stick in the oven at 350 for 50 minutes.
Since the pumpkin pie takes 50 minutes to cook and at least an hour to cool, now is a good time to start a fall family movie. Casper, Harry Potter and the Prisoner of Azkaban, It's the Great Pumpkin, Monsters Inc., and The Nightmare Before Christmas are all good movie selections for Halloween time. Fill everyone's glasses with some hot cocoa or hot cider and enjoy your movie selection. The pumpkin seeds should be cool enough to eat now, so set on the table to enjoy during the movie. Don't forget to take the pumpkin pie out of the oven. Stick in refrigerator to cool or if you want to enjoy it sooner, you can put the pie in the freezer for 30 min. By now the movie is almost over. Before bedtime serve up some of the pumpkin pie from everyone's pumpkin. Everyone will rest well and reminisce about a day well spent!