Recap of our first Friday
Halloween Hodgepodge
I've been meaning to write a follow-up to the haunts Andy, Dan and I have traveled to so far this season and will do my best now. My memory has never been that great, so I apologize if I don't mention any important pieces.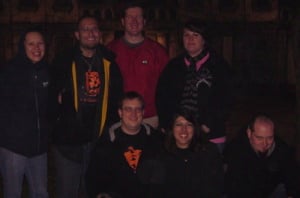 Our first outing consisted of Johnny's wife, Johnny, his friend, Sarah, Andy, me and Dan.

On Friday, October 3rd we visited:
Wisconsin Feargrounds
Monster Mayhem
Mars Haunted House

The first stop was the Wisconsin Feargrounds. This haunt grew again this year and now consists of three haunts; Morgan Manor, Morgana's Torment and Freaky's Funhouse. We were one of the first groups to go through on opening night.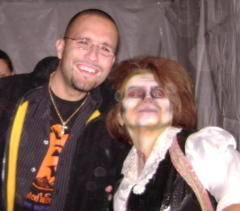 While in line a 'lovely' woman with an English accent hung around our group and seemed to take a liking to Johnny. What a lucky guy!

This year Morgan Manor really stands out and has a great looking facade which gives it a nice creepy feeling. This haunt is always well done and this year is no exception. After exiting Morgan Manor we walked through a small trail past a creepy old Victorian type hearse.

Next we went through Morgana's Torment. In my opinion, this haunt is the best out of the three with its detailed sets, great scares and actors. Johnny managed to pick up another 'friend' and we had a crazy 'little girl' following all of us throughout.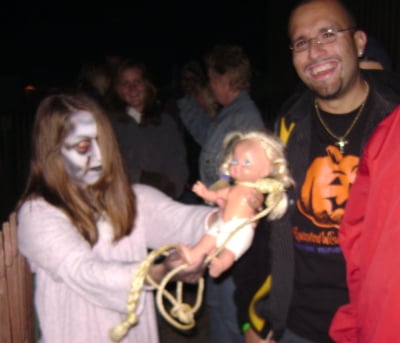 The last haunt on our tour was Freaky's Funhouse. We were greeted by a clown with blue hair and our new 'friend' and her doll kept us company while we waited to go in. Freaky's Funhouse is just that. We got some 3D glasses to wear and were thrown into brightly colored scenes with images that seemed to pop off the wall and floors. I'm not sure if it's because I wear glasses, but I ended up stumbling a few times and I'm sure some of the actors thought I was drunk! Near the end we had to walk over this 'bridge' type thing which was fun, but it caused me to stumble some more. I swear I wasn't drunk! I wasn't even drinking that night!


Next we traveled to Milwaukee and stopped by the new Monster Mayhem. The location is in the basement of a pizza joint. Side note: The women's bathrooms are very small! I'd suggest skipping the restroom if possible. There is a great game room, so if you have to wait, you can have some fun playing the old school video games. The night we went, we were the only ones in line. I'm not sure how it will be on busier nights, since there's not really room for a line, but the ticket people were very nice and we chatted with them for a bit before heading down.

We were led outside to the back and were told the back story about what's been taking place. Unfortunately I couldn't really hear the whole thing since I was near the top of the stairs. The 'janitor' Walter greeted us and explained there were some experiments going on and he's been busy cleaning up all the blood. Once we got in I felt like I was thrown into a zombie video game of sorts and really liked feeling like I was part of the story. For being a first year haunt, I think they did a great job and I can't wait to see what they do next year. Kudos to Walter!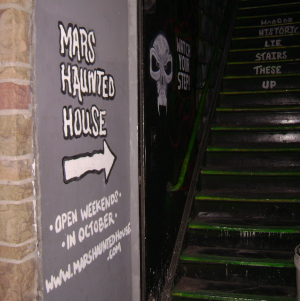 Afterward we traveled to Gilly's but were too late to go through so we continued on to Mars Haunted House. There was a short line and we were entertained by a clown and his…prop. We chatted with the operators for a bit before heading in. This year Mars has added a back story which you hear before you continue through the house. I actually didn't really listen because by that time I was getting tired and was paying more attention to the lighting, props and tired to figure out if the actor in the room was going to pull a surprise on us. There were some changes to the house this year, but be warned…the bearded lady is still in the house! It was my turn to pick up a 'friend' who I had following me for quite some time. While looking back at him I ended up walking into what I thought was a prop in a chair…until it slowly stood up and walked in front of me! Mars did another great job this year.